Apart from the main towns of the island we have described in detail, please read a few more lines about the other interesting villages and spots definitely worth a visit.  A brief description based on our impressions or knowledge doesn't mean that you might not find a perfect place for yourself among them. Korcula Island truly is diverse and special.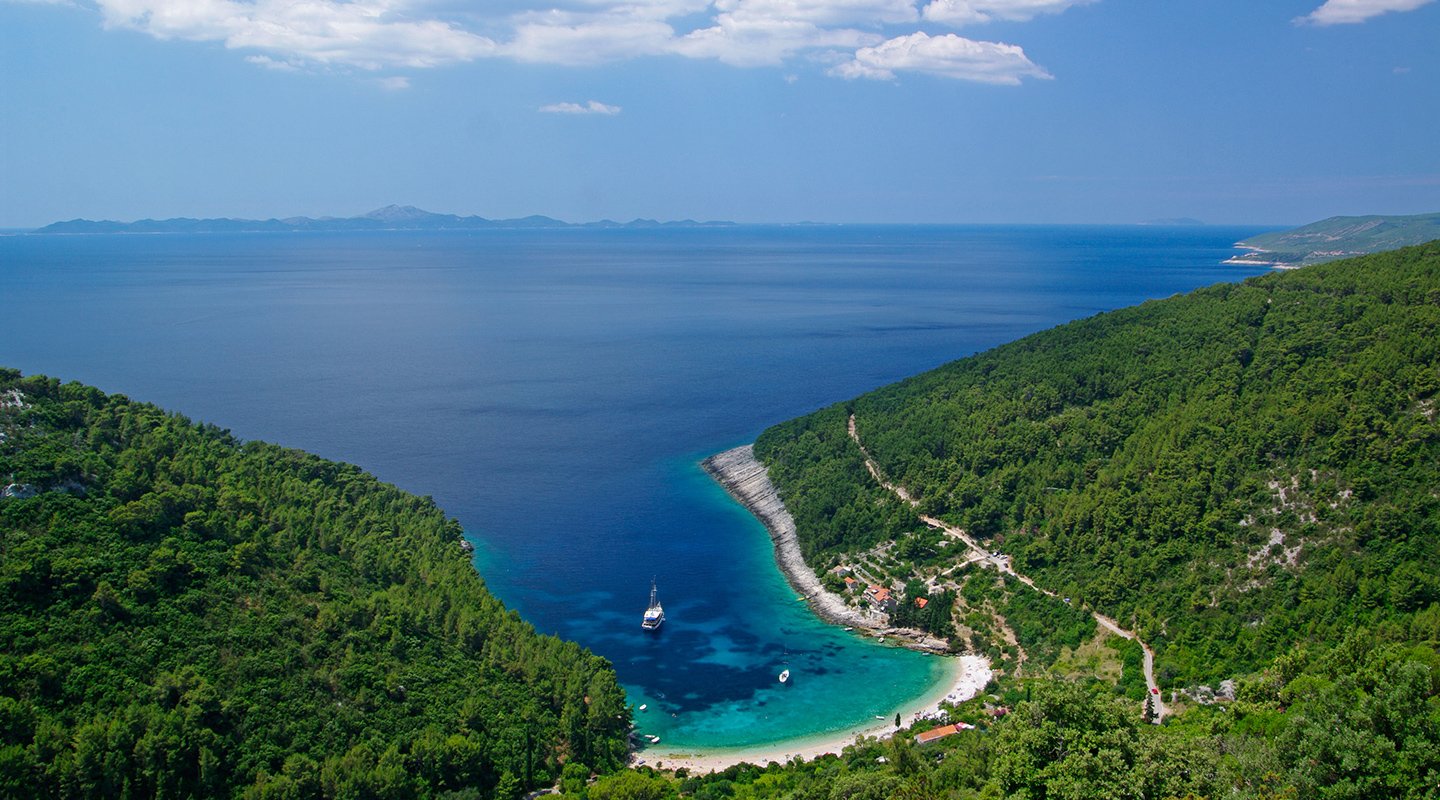 So, starting from the eastern end, or the beginning of the island, as you wish, you will find Lumbarda, one of the most significant locations culture and history wise on the island. Not to get into the details about it's over 2 thousand year old rich history, we can just give you some tips and let you explore, on the spot.
There are beautiful beaches, fun day and nightlife, great archipelago in front, world wide known white wine and rich. Just go there and enjoy the Grk wine and ask for some of the island's best agro tourisms. You will taste the food and wine you probably will never forget.
Lumbarda is home to great artists, some of them worldwide known working in sculptures from stone.
Right 'next door' to Lumbarda and Korcula town there is a little village called Žrnovo.
It is a small village having just over a thousand inhabitants, spreading on the large area with a beautiful nature and it consist of four separate hamlets. Zrnovo is one of the oldest settlements on the island. The village has numerous small churches one can see walking along the road from East to West, all the way down to the sea at Zrnovska Banja, a nice tourist seaside place.
So, Zrnovska Banja, Kneze, on to Racisce there is a road that connects places on the northern coast with loads of nice beaches and truly untouched nature.
The coast south of Zrnovo has several bays and coves, some of them totally uninhabited that you can reach by car or a bike. These places will offer you the peace and rest in your own part of sea and the sun, far away from the crowds and the noise.
The main road from Zrnovo takes you on to Pupnat, a little village with some great little restaurants worth a visit.
From there the first point at the sea is Pupnatska Luka, a port on the southern coast with one of the most beautiful beaches on the islands. Chose to spend a day there, it is worth it.
The following inland village is Čara, a place know for wine production, so stop by for some wine tasting and if you re off for a swim, just stroll down to Zavalatica, few kilometers away. It is a nice tourist village where you can enjoy the local gastronomy after the day at the beach called Zitna.
From there on, from Čara by main road, you can get to Smokvica, a little larger inland village also significant in wine production. There are many wine tasting cellars worth a visit and from there just a few kilometers away reach the tourist settlement by the sea called Brna, with a nice port and great beaches, shops, bars and restaurants.
Prižba is the largest tourist settlement on the south coast of Blato municipality. It has a long and beautiful coast, with many beaches, restaurants and places to enjoy the sea and water sports. Definitely worth a visit, especially with kids.
There are many other spots that might be interesting and worth a visit, depending on your preferences. As we assume that you are here for the sun and the fun, definitely make sure you consult us regarding the details.
We will provide further instructions, maps, contacts, or even organize rentals or transfers for you at the most favorable prices.