Your idea was not to wonder for hours or days in search of cultural and historical sites or monuments, nor to pay a lot to see it all, feel it at once, in as little time as possible. You did not want to pay attention to how to get to which point, looking through gigantic maps... but to have it all in one place, in a little medieval city surrounded by walls that can easily be explored. You wanted the history, tradition, culture and... life in it and with it, all at once. Then, welcome to Korcula town.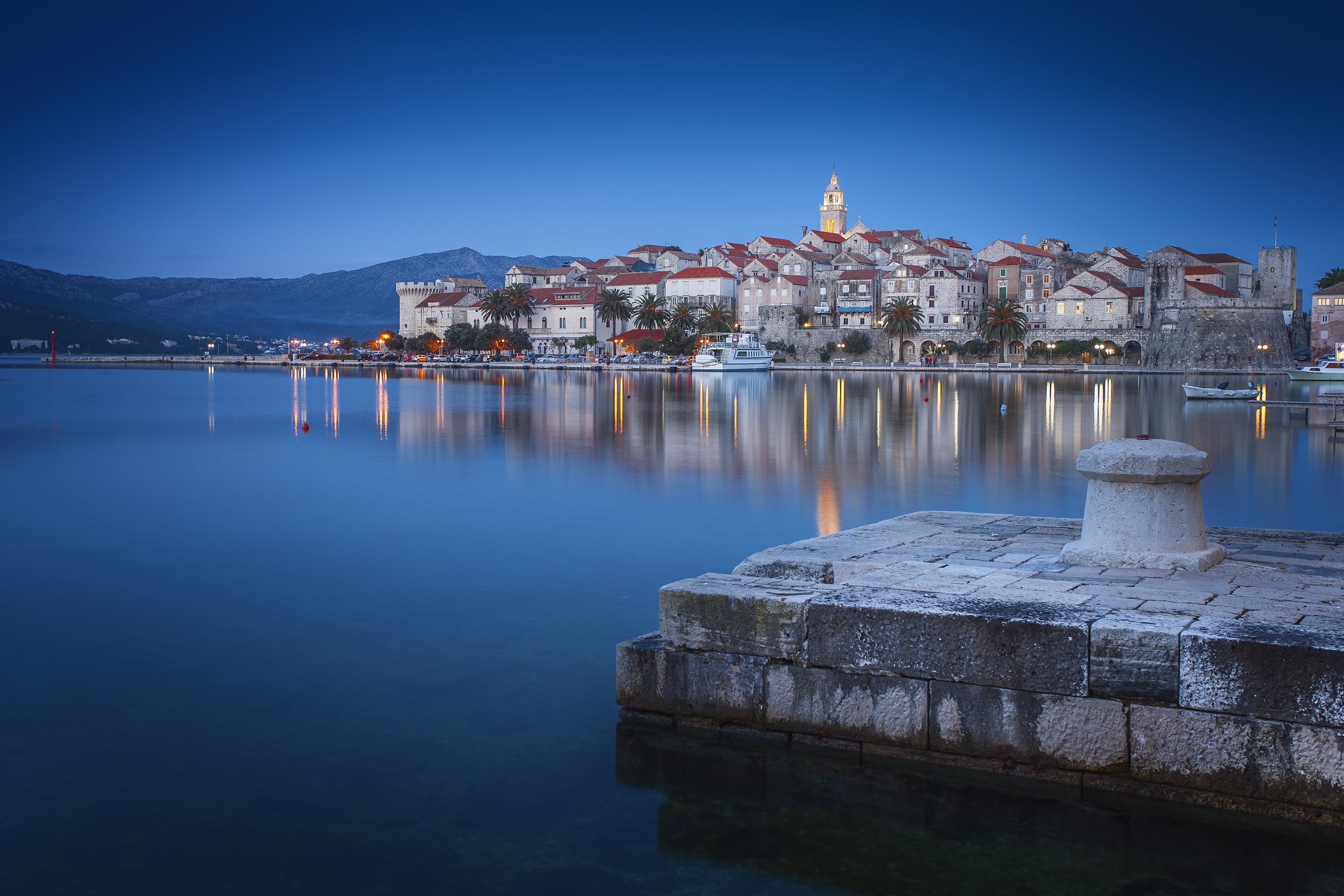 Korcula town is basically built on a little peninsula overlooking the channel between the island and the mainland on the other side. It is very well protected by city walls and the towers. The guns are still there, of course. Streets are arranged in a fishbone pattern, making enough air and sun for all citizens, yet protecting the city from the strong winds. Haven't they thought about everything back then?! Yes, but we might as well add that the generations of citizens that followed have taken care of the city which has been very well preserved and is so now still shining in its full light of centuries.
Building outside the city walls was forbidden, at least until the 18th century.
There are loads of interesting stories from the history of the city, of course, but you will have to search for some tales yourself. Or, in case you don't want to know it, just meditate in your slow walk... go via 'Street of thoughts'... Yes, there is one in the old town, and you have no steps there to worry about.
Let's get a little more serious. The town area was as all other island towns or villages first settled by Illyrians and Greeks, before the Slav tribes arrived and the city as we know it was formed.

A significant historical document from this period is "Statute of the town and the island of Korcula" from 1214. It reveals and explains a great part of Korcula's cultural and economic history up to the 16th century. The golden period for Korcula was between the 13th and 15th centuries, since it was then the old town's present form was acquired through the construction of important buildings. Most of these can still be seen today.
It was during this period that the Venetians left its distinctive mark on Korcula's culture and architecture, which has been well preserved for future generations.
From the times of Ottomans invasions, the trace was left in the form of a sward dance you have to see while in Korcula. It is impressive and a must see!
A few important facts we should forget to mention... that Marco Polo, the world's famous traveller was born here, in Korcula. You can visit the birth house and get an authentic souvenir... make yourself a legitimate 'world class traveller' at its root.

Town of Korcula was an important strategic point in control of the merchant ships sailing along the east coast of the Adriatic.

The architecture and the order could be the main words describing Korcula. So, be sure you will notice it here.
Us as the islanders would always recommend a visit to Korcula town for the following reasons, besides the main facts.
It's easy to reach via any road on the island as the roads are very good. There is plenty of parking spaces in and around town. There are many nice little souvenir shops, galleries, restaurants so it is never too crowded and you can always get a seat.
The local cuisine is great, typically Mediterranean in all sorts of little taverns and restaurants spread around the city, with great views over the channel.
There are plenty of fancy night bars with live music as well as few clubs with modern treats, so the night life is very good.
You will be satisfied with the number of activities you can organise in the nearby area, semi-submarine trips, sailing schools, scuba diving, cycling, deeps sea fishing, kayaking and many more.
The people are very welcoming and generous. The culture and the warm welcome is and was important here for centuries. Everything else, or even some of the things we don't know yet about this beautiful town, come and see yourself!
So, just visit and enjoy Korcula, as much as you can! Kor-chu-la it is pronounced.