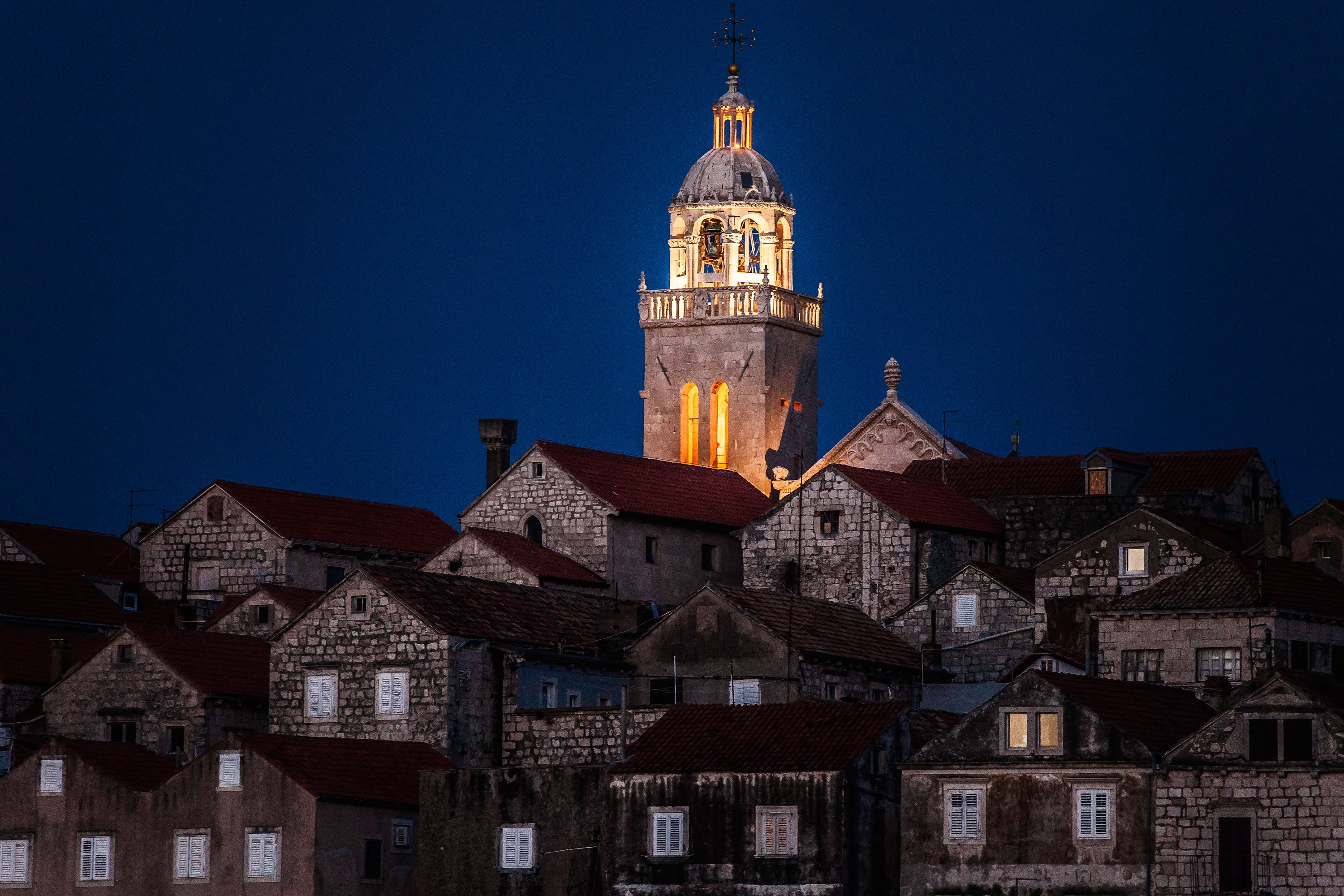 The Holy week or the Easter week in Korčula, a week of penance, preparations for the Easter.
It begins on the Great Flower day, the Sunday of the Palms, in the memory of the Christ's entrance to Jerusalem when the palm trees, the olive trees and the rosemary is blessed, after which they are placed on the holy pictures in bedrooms and above the entrance doors. The Brothers of all of the three Brotherhoods: All Saints, Saint Michael and Saint Rocco wear their traditional gowns and carry huge candles of pure wax, some weighing 85kg, 2,5m high, lamps, stars and crosses, accompanied by the old church songs in the old city ambience creating a unique mystical atmosphere. The medieval city center of Korčula is enlightened by the light of more than 300 candles.
The oldest brotherhood, the All saints (Sasvetani) established in the year 1301. are dressed in the Brotherhood gowns of the precious textile, yellowish woolen tunics with the hoods and rope belts. The special value of their equipment is the gothic silver crucifixion from the 15th century, the work of the famous Dubrovnik gold master Ivan Progonović.
The brotherhood of Saint Rocco (Rokovci) was established in 1575. They are easily recognizable by the white tunics with a short yellow overcoat.
- The youngest brotherhood is of the Holy Virgin Mary of Consolation established in 1603., with a nickname Mihovilci (after their church of Saint Michael). The brothers are dressed in white linen tunics with the dark blue overcoats.
All Korčula's brotherhoods are proud of their statute (Matrikula) which is carefully kept and maintained as the old song books in the people's language performed by their singers – kantaduri.
The full richness of the Brotherhoods is expressed during the Holy week, for which they prepare for an entire month. The jewelry is cleaned and polished, the singing is rehearsed, and certain rituals performed, the clothes for the new members, adults and children prepared. All rooms of the brotherhoods need to be thoroughly cleaned as they are visited often in these days and in which the party is held after the Holy Friday Procession (fritters and doughnuts are traditionally served).
At the very beginning of the Holy week, on the Great Flower day, all three Brotherhoods gather in the Cathedral for blessing. The children wave with the palm and olive branches, the Jesus' suffering is sung (performed by the best brotherhood singers).
From the Great flower day on, the brotherhood penance processions are held each night, from their churches towards the cathedral. Every day of the week they have their obligations, so on a Holy Wednesday the people gather in the cathedral for a brothering and singing of the psalms.
On the Holy Thursday the parish priest washes the feet of the 12 brothers, as a symbolic gesture in the memory of the last supper.
On the Easter Sunday, the Brotherhoods come for a festive procession of the Resurrection. 
Posted by Davor