It features a true spirit of the peace and quiet, with a modern Robinson atmosphere. The interior is stylish and the exterior is pure hedonism. The three cottages that combine to make this wonderful villa complex have a private terrace each, with loungers and chairs to enjoy the most exquisite view.
The houses were built in the typical local manner with stone on stone, no plaster technique which took 5 years to craft. It is one of the most complex techniques of building yet the houses are fully isolated with modern materials from the inside.
There is a private road leading you all the way to the villa, just by the sea.
A beautiful stone village in fact that is. A small complex of 3 cottages making up a villa with a mutual dining area in the middle and the endless pool beneath.
Each house has a living and dining area on the main floor and the sleeping area on the living room attic. The cottage by the pool has an extra bedroom with an en-suite bathroom.
Accessing the house you enter the area of parking with 3 parking lots.
The stairway takes you down to the mutual dining area with a big stone table to sit all people. There is a large bbq there with woods and charcoal prepared. From there you access two cottages on the side, both identical. Each of these two upper cottages have some 42m2, with sleeping area on the attic above the living room and the bathroom.
The stairs from the mutual dining area take you down towards the pool and the bigger house by it.
This house is identical to the two from above but with an extra bedroom with an en-suite bathroom on the side. This house has a satellite TV.
Villa is located in the area with no city infrastructure so it runs on alternative power. This simply means you have some limitations, but you in fact have all you need in terms of household equipment except for some appliances that run on heaters and coolers. The water boiler and the cooker run on gas, other electricity is provided from a private generator well hidden and isolated.
All materials used are natural, stone and wood. The house is made minimalistic, seaside like, with all you need to enjoy your vacation in the most freedom of mind and spirit that you can imagine.
There is an endless pool with a nice lying area with an access coming right from the stairs of the mutual dining area.  Its position is splendid and you will enjoy it, guaranteed.
Features inside
3 Kitchens
3 Living rooms
3 Dining rooms
4 bedrooms
4 bathroom
Sat TV
Bbq
Fridge
Oven
Features outside
Swimming pool 22 m2
Terraces
BBQ area
Parking
Loungers
Parasol
Outside dining area
Included in price
Use of facilities and amenities
Changing of towels and bed linen once a week
Final cleaning
Tourist tax
Welcome snack
Additional services
Transfer from the airport, ferry boat or catamaran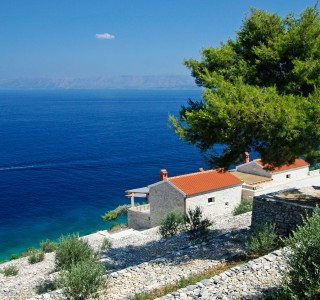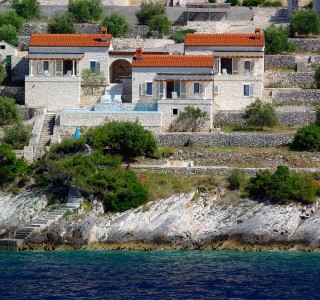 The villa is located in the perfect location, first line by the sea, in the cove called Kovnici on the northern coast of the island Korcula. It is away from the crowd, very private, yet just a short drive away from the lively tourist town of Vela Luka. Villa is surrounded by typical Mediterranean vegetation, pine and olive trees.
The property features a private mooring by the house for a daily keeping of the boat. The owners can organise a permanent mooring on the safer location, since this is not the port but rather a cove.
Price list for this villa
Season
Price per day
15.05.2021. - 19.06.2021.
295.-€
19.06.2021. - 03.07.2021.
360.-€
03.07.2021. - 10.07.2021.

490.-€

441.-€

10.07.2021. - 17.07.2021.

590.-€

531.-€

17.07.2021. - 21.08.2021.
590.-€
21.08.2021. - 28.08.2021.
490.-€
28.08.2021. - 11.09.2021.
360.-€
11.09.2021. - 25.09.2021.
295.-€
Send inquiry for this villa
Additional information
House pets are not allowed
Events are not allowed
Minimum stay is 7 days, but exceptions can be made depending on a high/low season
A short stay (less than 4 nights) is possible out of high season, but requires 30% surcharge 
Changeover day is preferably Saturday, but can be flexible depending on a high/low season
Check in is at 4 pm and check out is at 10 am
The number of guests should never exceed the maximum capacity of the property.
The entire agreed rental fee must be paid even if the property is used by fewer people than indicated when you made the booking or your party does not use the property for the full period indicated when making the booking.
A 30% deposit is required at the time of booking and the final balance is due 30 days prior to your arrival date.
Weekly rates do not include all additional services
Vela Luka, Kovnici
Distances
Town centre:

Vela Luka / 5 km

Grocery store:

Vela Luka / 5 km

Restaurant:

Vela Luka / 5 km

Sea/beach:

Kovnici / 20 m

Ferry port:

Vela Luka / 6 km

Local airport:

Vela Luka / 6 km
Review from the guests who spent their vacation in this villa:
"...we can't imagine another place for our holidays :)...''
Stayed at Villa Stone Village
You may also be interested in
Persons: 12 Bedrooms: 6 Bathrooms: 6 Accommodation: 250 m2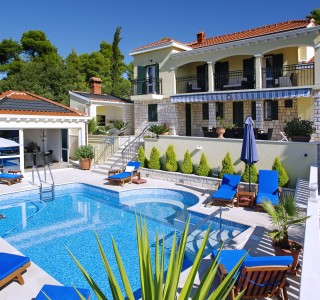 A large villa with a perfect setting
From 0 €
Persons: 8 Bedrooms: 4 Bathrooms: 4 Accommodation: 150 m2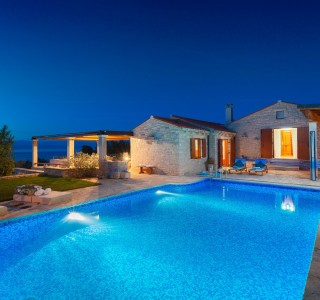 Spectacular! Closest to the best you can get!
From 187 €